About Burkett Stucco Inc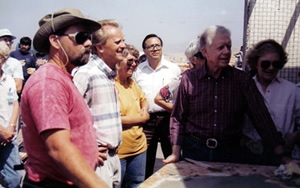 "Burkett Stucco Inc., was established in 1973 by Donald L. Burkett with a rented mixer, 1965 Ford van and $400.00.
A few months into the operation of patching existing structures and small addition stucco work, William (Bill) Pearson was hired as the first official employee, who also passed away in 2016.
BSI moved into the housing stucco market and acquired the contract for all of the stucco work at Sun City Center through W.G. Development and enjoyed 15 years of success at Sun City and with other housing icons such as US Homes, Lennar, Karpay Associates, to name a few.
BSI moved into multifamily and metal studs and drywall in the 80's.
BSI survived the 80's and 90's with the down turn in the economy and went into a 15 year trek through the Caribbean and Central America doing exterior building systems and finally full building projects with hurricane building systems.
BSI became the experts, world wide with these systems and in 1990 was approached by former President Jimmy Carter to become part of his senior staff for Jimmy Carter work projects, enjoying three years of service with a wonderful group of likeminded individuals.
Throughout the 90's BSI made a transition to total commercial, multi-family and high rise, mid rise envelopes and interior buildouts.
From this point until now BSI has grown to one of the largest regional exterior envelope, interior buildout companies in the Florida market. In 2002 BSI invented Rhino Wall Systems for addition to our work expertise.
45 years later BSI is stronger than ever and operating out of the Tampa Bay area."
We have completed many successful projects with:
A.G. Spanos Construction
Amore Construction Company
Bank Building
Corporation dba New Ground
Batson-Cook of Tampa, Inc.
Beck
Development, LLC
Brasfield & Gorrie
Bovis Lend Lease
Gilbert
Southern Corp
Hunt Construction
Irwin Contracting
Johnson
Graham
Malone, Inc.
Casy Const
Ryan Const
N.R.P
Spanos Corp
Moss Const
Summit Contractors, Inc.
Vestcor Construction Services